Please visit the journal site  http://www.pubs.iscience.in/journal/index.php/cbl  for latest updates, articles, submission and more details.
This page is no longer maintained.
Editors
Prof. Keykavous Parang
Chapman University
Editor (USA)
Dr. B.S. Chhikara
,
University of Rhode Island
Executive Managing Editor
Dr. R. Dabur
,
M.D. University
Associate Editor (India)
ISSN 2347–9825
Journal Links
Issues list
Check more issues list at journal site http://www.pubs.iscience.in/journal/index.php/cbl
Follow Journal on
Subscribe to Contents Alert
The Chemical Biology Letter is an international journal that provides a rapid forum for publication of quality original research at the interface of chemistry and biology. Chemical biology letters covers the scientific ideas and approaches of chemistry, biology and allied interdisciplinary areas such as medicinal chemistry, drug discovery, drug delivery, biosensor, protein chemistry, biological chemistry, biomolecules, bio-technology, biomedical, molecular biology and other allied areas covering chemistry and biology for better understanding of biological phenomenon at molecular level. The journal invite research articles from the community of chemical biologists.
Chemical Biology Letters is now indexed in WHO's HINARI (see details at Chemical Biology Letters on HINARI ).
2017 Vol 4 Issue 2
Synthesis, characterization and antimicrobial evaluation of benzimidazole clubbed benzothiazole derivatives
Prabodh Chander Sharma, Seema Padwal, Anil Saini, Kushal Bansal
Chem. Biol. Lett., 2017, 4(2), 63-68


View Article   View Full text PDF   Download PDF   Cite     Download Citation
---
Inhibitory effects of reserpine against efflux pump activity of antibiotic resistance bacteria
Sridevi Dhanarani, Shankar Congeevaram, Prakash Piruthiviraj, Joon Hong Park, Thamaraiselvi Kaliannan
Chem. Biol. Lett., 2017, 4(2), 69-72


View Article   View Full text PDF   Download PDF   Cite     Download Citation
---
Synthesis, antimicrobial and antimalarial study of novel 1,3,4-thiadiazole derivatives incorporating imidazo [1,2-b] pyridazine and thiazolidinone moieties
Ashish Bhatt, Rajesh Kumar Singh, Ravi Kant
Chem. Biol. Lett., 2017, 4(2), 73-80


View Article   View Full text PDF   Download PDF   Cite     Download Citation
---
Synthesis of novel 2-(3-aryl/alkylamino propoxy)-12-aryl xanthene derivatives as antifungal and antibacterial agents
Bhaskara Nand, Kalawati Meena, Shruti Gupta, J.M. Khurana, Amita Malik, Chetan Sharma, Harsh Panwar
Chem. Biol. Lett., 2017, 4(2), 81-90


View Article   View Full text PDF   Download PDF   Cite     Download Citation
---
2017 Vol 4 Issue 1
Development and validation of pharmacophore and QSAR models for influenza PB2 inhibitors
Deepak Kumar Behera, Pabitra Mohan Behera, Laxmikanta Acharya, Anshuman Dixit
Chem. Biol. Lett., 2017, 4(1), 1-8


View Article   View Full text PDF   Download PDF   Cite     Download Citation
---
Fighting with Gram-negative enemy: Can outer membrane proteins aid in the rescue?
Anubhav Tamrakar, Amit Kumar Singh, Meenal Chodhrary, Prashant Kodgire
Chem. Biol. Lett., 2017, 4(1), 9-19


View Article   View Full text PDF   Download PDF   Cite     Download Citation
---
Identification of immunodominant epitopes in the HA2 subunit of H5N1 haemagglutinin by immunoassay using synthetic peptides as antigens
Khangembam Victoria Chanu, Dimpal Thakuria, Richa Sood, Atul K Pateriya, Sandeep Bhatia, Satish Kumar
Chem. Biol. Lett., 2017, 4(1), 20-26


View Article   View Full text PDF   Download PDF   Cite     Download Citation
---
Homology modeling and docking studies of VP24 protein of Ebola virus with an antiviral drug and its derivatives
Deepti Sharma, Navneet sharma, Mallika Pathak, Riya Sharma, Prateek Tyagi, Raman Chawla, Mitra Basu, Himanshu Ojha
Chem. Biol. Lett., 2017, 4(1), 27-32


View Article   View Full text PDF   Download PDF   Cite     Download Citation
---
Trials and tribulations in tuberculosis research: Can plant based drug(s) be the solution?
Smita Mishra, Manisha Khatri, Varsha Mehra
Chem. Biol. Lett., 2017, 4(1), 33-47


View Article   View Full text PDF   Download PDF   Cite     Download Citation
---
Antimicrobials in Higher Plants: classification, mode of action and bioactivities
Ishwar Singh
Chem. Biol. Lett., 2017, 4(1), 48-62


View Article   View Full text PDF   Download PDF   Cite     Download Citation
---
2016 Vol 3 Issue 2
Application of Porphyrin nanomaterials in Photodynamic therapy
Pratibha Kumari, Renu Gautam, Archana Milhotra
Chem. Biol. Lett., 2016, 3(2), 32-37


View Article   View Full text PDF   Download PDF   Cite     Download Citation
---
Synthesis of novel Imidazo [1,2-b] pyridazine derivatives and study of their biomedicinal efficacy
Ashish Bhatt, Rajesh Kumar Singh, Ravi Kant
Chem. Biol. Lett., 2016, 3(2), 38-43


View Article   View Full text PDF   Download PDF   Cite     Download Citation
---
Morin augmented the metabolism and detoxification of ethanol: effects on TGF-β and the collagen accumulation
Saravanan Nadanam, Anbu Singaravelu, Padma Jayabalan, Niyas Ahamed Md Iqbal
Chem. Biol. Lett., 2016, 3(2), 44-51


View Article   View Full text PDF   Download PDF   Cite     Download Citation
---
Synthesis, characterization and evaluation of prodrugs of ciprofloxacin clubbed with benzothiazoles through N-Mannich base approach
Mona Piplani, Avtar Chand Rana, Prabodh Chander Sharma
Chem. Biol. Lett., 2016, 3(2), 52-57


View Article   View Full text PDF   Download PDF   Cite     Download Citation
---
Biosystematics of the Dioscorea species of western ghats using chemical and molecular tools
A. Rafeeq, K.B. Rameshkumar, N.S. Pradeep
Chem. Biol. Lett., 2016, 3(2), 58-63


View Article   View Full text PDF   Download PDF   Cite     Download Citation
---
2016 Vol 3 Issue 1
An overview of lignans with special reference to podophyllotoxin, a cytotoxic lignan
Saptarshi Hazra, Sharmila Chattopadhyay
Chem. Biol. Lett., 2016, 3(1), 1-8


View Article   View Full text PDF   Download PDF   Cite     Download Citation
---
Chemical Evolution and Origin of Life: A Review
Avnish Kumar Arora, Kuldeep Singh, Vivek Sheel Jaswal, Raman Singh
Chem. Biol. Lett., 2016, 3(1), 9-17


View Article   View Full text PDF   Download PDF   Cite     Download Citation
---
1,5-Benzothiazepine: Bioactivity and targets
Rajneesh Kaur, Raman Singh, Kuldeep Singh
Chem. Biol. Lett., 2016, 3(1), 18-31


View Article   View Full text PDF   Download PDF   Cite     Download Citation
---
2015 Vol 2 Issue 2
Recent advances in development of Inhibitors of Dengue infection
Poonam Bhargava, Nisha Aggarwal
Chem. Biol. Lett., 2015, 2(2), 22-29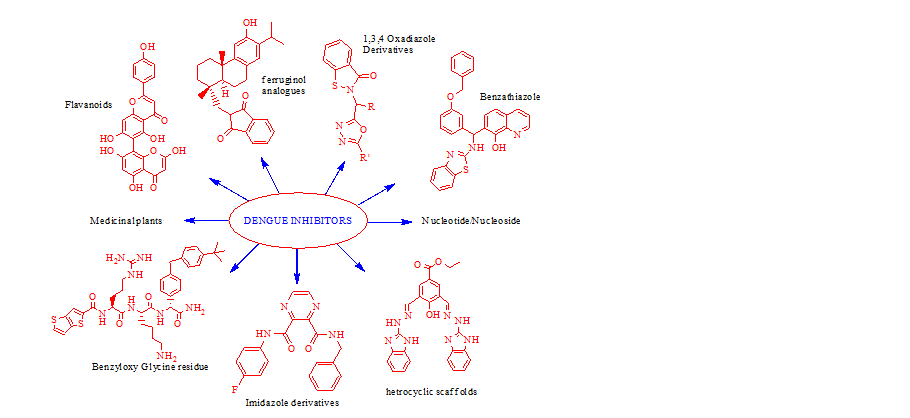 View Article   View Full text PDF   Download PDF   Cite     Download Citation
---
Liesegang patterns, growth kinetics, inhibition and dissolution of calcium phosphate: A constituent of renal stone
Alpana Tripathi, Gopal ji Srivastavaa, Sashank Srivastava, Ishwar Das
Chem. Biol. Lett., 2015, 2(2), 30-40


View Article   View Full text PDF   Download PDF   Cite     Download Citation
---
Comparative study of antibacterial activity of standard antibiotic with silver nanoparticles synthesized using ocimum tenuiflorum and garcinia mangostana leaves
Nikesh Gupta, Chetna Gupta, Sandeep Sharma, Rakesh Kumar Sharma, H. B. Bohidar
Chem. Biol. Lett., 2015, 2(2), 41-44


View Article   View Full text PDF   Download PDF   Cite     Download Citation
---
2015 Vol 2 Issue 1
Evaluation of inhibition of protein tyrosine phosphatase 1B by calixarene-based α-ketophosphonic acids
Viacheslav Trush, Sergiy Cherenok, Vsevolod Tanchuk, Vitaly Kalchenko, Andriy Vovk
Chem. Biol. Lett., 2015, 2(1), 1-5


View Article   View Full text PDF   Download PDF   Cite     Download Citation
---
Evaluation of anti-hyperglycemic effect of Gracilaria corticata extract in Normal and Streptozotocin-induced Diabetic rats
Subashini Sekar, Pugalendi Viswanathan K, Baskaran Kishnan, Kripa Kavasseri Ganesan
Chem. Biol. Lett., 2015, 2(1), 6-11


View Article   View Full text PDF   Download PDF   Cite   Download Citation   Cited by – Google Scholar
---
Characterization of podophyllotoxin biosynthetic pathway and future prospect of podophyllotoxin production from Podophyllum hexandrum Royle
Dipto Bhattacharyya, Sharmila Chattopadhyay
Chem. Biol. Lett., 2015, 2(1), 12-21


View Article   View Full text PDF   Download PDF   Cite     Download Citation
---
2014 Vol 1 Issue 2
Effects of 1,3-di-O-substituted-myo-inositol derivatives on the antiproliferation and caspase-3 activity of HCT-116 and HL-60 cells
Noriyuki Hatae, Satoe Yamauchi, Takafumi Saeki, Ichiro Suzuki, Tominari Choshi, Satoshi Hibino, Chiaki Okada, Yutaka Watanabe, Eiko Toyota
Chem. Biol. Lett., 2014, 1(2), 40-43


View Article   View Full text PDF   Download PDF   Cite     Download Citation
---
3D-QSAR and molecular docking studies of ATP-competitive Akt inhibitors with the scaffold 4-(piperazin-1-yl)pyrimidine
Xie Wencheng, Zhang Linna, Yin Yanzhen, Yang Dezhi, Zhao Guisen
Chem. Biol. Lett., 2014, 1(2), 44-54


View Article   View Full text PDF   Download PDF   Cite     Download Citation
---
Recent advances in PET imaging of folate receptor positive diseases
Qingshou Chen, Ping Wang, Philip S Low, Sumith A Kularatne
Chem. Biol. Lett., 2014, 1(2), 55-65


View Article   View Full text PDF   Download PDF   Cite     Download Citation
---
Control of carbohydrate and lipid metabolism by NRF-1 and sirtuins: Implications on type 2 diabetes and obesity
Zane Ferreira, Ademola Ayeleso, Emmanuel Mukwevho
Chem. Biol. Lett., 2014, 1(2), 66-76


View Article   View Full text PDF   Download PDF   Cite     Download Citation
---
Perspectivity of bifunctional chelating agents in chemical, biological and biomedical applications
Bhupender S. Chhikara, Sumit Kumar, Nidhi Jain, Anil Kumar, Rajiv Kumar
Chem. Biol. Lett., 2014, 1(2), 77-103


View Article   View Full text PDF   Download PDF   Cite     Download Citation
---
2014 Vol 1 Issue 1
Calmodulin dependent protein kinase (CaMK)-II activation by exercise regulates omega-3 polyunsaturated fatty acids biosynthesis in rat skeletal muscle
Jitcy S Joseph, Emmanuel Mukwevho
Chem. Biol. Lett., 2014, 1(1), 1-10


View Article   View Full text PDF   Download PDF   Cite     Download Citation
---
Tetrahedral Hydroxyethylamine: A Privileged Scaffold in Development of Antimalarial Agents
Brijesh Rathi, Ph.D., Prem Prakash Sharma, R P Singh
Chem. Biol. Lett., 2014, 1(1), 11-13


View Article   View Full text PDF   Download PDF   Cite     Download Citation
---
Comparative global epidemiology of HIV infections and status of current progress in treatment
Jyoti Singh, Bhupender S. Chhikara
Chem. Biol. Lett., 2014, 1(1), 14-32


View Article   View Full text PDF   Download PDF   Cite     Download Citation
---
Monoamine Oxidase Inhibitors for Neurological Disorders: A review
Ram Singh, Geetanjali ., Naveen Sharma
Chem. Biol. Lett., 2014, 1(1), 33-39


View Article   View Full text PDF   Download PDF   Cite     Download Citation